My Money Mistake: Not Buying Pet Insurance
Full disclosure: I live in a zoo. My home is full of dogs and cats, and I love them all. What I don't love is the vet bills, and we have a LOT of them.
I've always ignored pet insurance – I'm not sure why – but now I see that is one of my biggest money mistakes. At first it seemed a little like a scam. Then it seemed too expensive, especially with multiple pets.
But now I realize if I'd gotten it when each new fur baby came into my life, I'd have saved a lot of money on vet bills.
As it turns out, we have (in addition to other perfectly healthy pets):
A dog with extreme ongoing dental issues
A kitten with epilepsy who'll need a lifetime of medication
A cat with urinary tract issues who needs a special diet
All in all, for the first nine months of 2019, our animals needed more than $5,000 of veterinary care (including a Pet ER stay).
While I do account for more-than-expected vet care in my pet budget, I definitely didn't leave enough room for several issues in a single year.
---
Click here for a free downloadable worksheet to create your own pet budget
---
And it turns out I'm not alone. According to a comprehensive survey by LendEdu, 45% of pet owners spend at least as much on their pet's health care as their own… but only about 39% have pet insurance.
That LendEdu report also found that
the average cost of emergency pet health care without insurance was $1,458.03
24% of pet owners have gone into debt as a result of pet healthcare costs
The average monthly premium for pet insurance is $76.76
88% of pet owners with pet insurance say it's absolutely worth it
Seems kind of crazy to not have pet insurance!
How Does Pet Insurance Work, Anyway?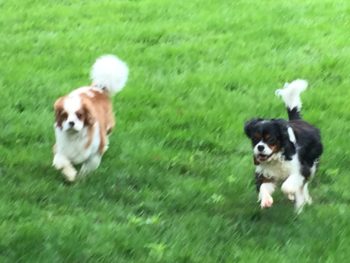 Pet insurance is basically catastrophic health insurance for your pets.
Like your health insurance, there are monthly premiums to pay and all sorts of things that aren't normally covered (like dental disease and pre-existing conditions). And because it's for emergencies, pet insurance doesn't typically cover routine vet visits or preventive care (like teeth cleaning).
But when your pet suffers an unexpected illness or injury, that's when coverage kicks in, potentially saving you thousands of out-of-pocket dollars.
If you're thinking about getting pet insurance – which I now totally recommend – here are some things you need to know:
You'll have to get your pet a check-up and send the results to the insurer before the coverage begins.
The policy won't cover any illnesses or injuries your pet already has (pre-existing conditions).
You have to pay all the vet bills – even the emergency ones – and then file claims for reimbursement.
Some plans come with deductibles, percentage coverage (for example, they'll pay 50% of the bills), and annual maximums.
Premiums will be lower for younger pets than older pets.
There are lots of providers out there, and many different plan options available from each, so you can tailor your pet insurance to fit your situation. (Here's a look at six different plans: https://www.thebalance.com/best-pet-insurances-4169714) And even partial coverage (50% reimbursement after a $150 deductible, for example) will protect your finances from $5,000 of emergency pet expenses.
I don't know about you, but my next pet (and I'm sure there will be one) will be fully insured.
Click here for more information about creating a pet budget and a free downloadable pet budget worksheet.